King Sunny Ade, a living legend worth celebrating, says Ooni of Ife
The Ooni of Ife, Oba Adeyeye Ogunwusi, has described King Sunny Ade (KSA) as a living legend worth celebrating.
Ogunwusi made the remarks at a public lecture to mark King Sunny Ade's 70th birthday at the Obafemi Awolowo University, Ile-Ife. The theme of the lecture was "Nigeria music Industry; the falling standards".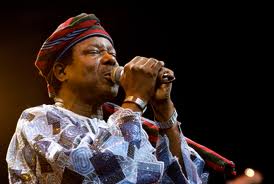 The Ooni said that King Sunny Ade experience in the Nigerian music industry was worth emulating by upcoming artists. "We are all here today to celebrate another leader in the music industry; I personally took it upon myself to be part of this event when the organiser came to me,'' he said.
Ogunwusi urged King Sunny Ade and other stakeholders in the music industry to mentor upcoming musicians' as well as the youth for a better tomorrow.
In his remarks, King Sunny Ade said he was happy to be alive to celebrate his 70th birthday. Sunny Ade, who said that he was lucky to clock 70 years, noted that he was happy to be honoured by Oba Ogunwusi.
"The late Ooni Okunade Sijuwade made me to be closer to him while alive, and now the new Ooni Adeyeye Ogunisi is moving closer to me, I think I am one of the luckiest to be close to the royalty," KSA added.