Shimon Peres funeral: leaders gather for burial of former Israeli PM
TVC E. The funeral of former Israeli president, prime minister and Nobel laureate Shimon Peres has begun in Jerusalem amid an "unprecedented" security operation, with more than 70 world leaders and dignitaries in attendance.
Among those at the ceremony at Mount Herzl cemetery were Barack Obama, former US president Bill Clinton, Prince Charles and the British foreign secretary, Boris Johnson, and the French leader, François Hollande, along with other heads of state and 15 foreign ministers.
Most striking, however, was the presence of Palestinian president, Mahmoud Abbas, who had not visited Jerusalem since 2010, and attended the funeral with a high-powered Palestinian delegation despite vocal criticism in Palestinian society of his decision.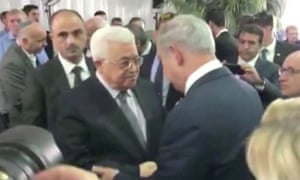 As he arrived, Abbas was greeted by the Israeli prime minister, Benjamin Netanyahu, with whom he shook hands.
The two men briefly exchanged greetings. "Long time, long time," Abbas told Netanyahu, before Netanyahu thanked Abbas for coming: "It's something that I appreciate very much on behalf of our people and on behalf of us."
An indication of the anger in some Palestinian quarters over Abbas's attendance was reflected in a cartoon circulated on social media, showing Abbas in Israeli military uniform with his name altered to sound Israeli, weeping over Peres's grave.
Others attending the funeral included former British prime ministers Tony Blair and David Cameron and the foreign secretary, Boris Johnson.
In his eulogy, Clinton described of Peres as an "optimistic dreamer" with a "luminous smile" who encompassed an "endless capacity to look beyond even the most crushing setbacks in order to seize the possibilities."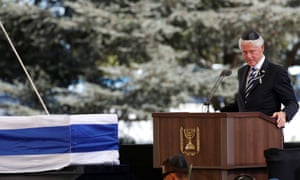 He added: "He imagined all the things the rest of us could do. He started life as Israel's brightest student, became its best teacher and ended up its biggest dreamer."
Netanyahu called Peres: "A great man of Israel. He was a great man of the world. Israel grieves for him. The world grieves for him."
His friend, the Israeli novelist Amos Oz, described his "capacity to change … a trailblazer who had been ridiculed, who seemed a big dreamer until the future came a proved him right."
"When some say peace is not possible it is possible and it is necessary and inevitable because we are not going anywhere," he said, adding: "That is why we have no option but to divide this house into two apartments. Where are the leaders the brave leaders who will make this dream come true and continue his vision."
The morning began with Peres's coffin carried out of the Knesset, the Israeli parliament, at just after 8.30am by eight military pall bearers, followed by his family, with the procession led by another member of Israel's armed forces reciting the kaddish – the Jewish prayer for the dead.
The coffin was loaded into a hearse to travel to Mount Herzl cemetery shortly after Obama's jet set down at Ben Gurion airport in Tel Aviv. Obama was accompanied on Airforce One by the vice-president, Joe Biden, the secretary of state, John Kerry, and 18 members of Congress.