Southwest governors vow to forge pathway to sustainable development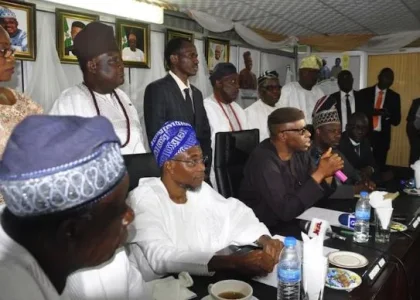 Governors from the nation's Southwest region have converged on Ibadan, the region's Political and administrative capital for an economic forum where they sought a regional approach to economic development.
Briefing newsmen shortly after the closed session, Oyo State Governor Senator Abiola Ajimobi emphasised the need for regular interface amongst leaders in the region.
Correspondent Olutayo Famous Cole report that it's a convergence of Governors from the nation's Southwest region and they are in Ibadan the administrative and Political capital of the Old western State to brainstorm, now that most states are battling with financial and sustainability challenges.
The Consensus amongst Leaders here is that political differences had overtime promted division within the region.
The Leaders say it's time to search for ways through which collective aspiration could be met.
It was not all about the challenges, the southwest Leaders also identified education as the foundation of development, which the region was identified with in the past.
To get back on track Industrial activities are set to be revamped, to achieve this the governors seek to develop through innovative thinking and integrated regional transport and energy infrastructure which they are sure would reignite the pioneering and revolutionary spirit of the southwest region.
Determined to forge a new path for the region, the governors have agreed to meet on a more frequent basis, with their next meeting scheduled for Ekiti state.
There, strategies to empower Nigerians to be more self reliant to weather the challenges of life would be discussed.