Boxing: Deontay Wilder agrees to fight Anthony Joshua in World heavyweight unification fight
World heavyweight champion, Deontay Wilder has agreed to fight Britain's Anthony Joshua in the UK.
The American, Wilder 32 holds the WBC title and wants a unification fight with Anthony Joshua, the WBA, IBF and WBO champion.
According to BBC Sport, Wilder says that while the $50 million offer for Joshua to fight him in the US is still on the table, he has agreed to Joshua's offer to fight in the UK.
He tweeted:
"The $50m offer for him to fight me next in the US is still available. Today I even agreed to their offer to fight Joshua next in the UK."
Wilder is so far unbeaten in 40 fights, and has 39 knockouts.
Joshua, too, is unbeaten in 21 fights, with 20 KOs.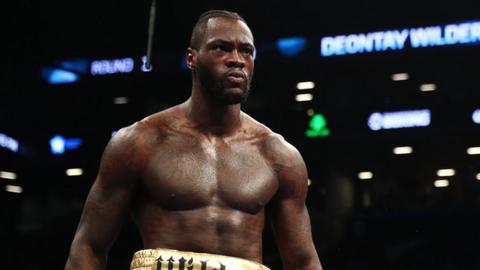 Joshua's promoter Eddie Hearn told Sky Sports he will send the contracts but wonders if Wilder's claim is just an "inflated talk".
He added:
"It's all come as a bit of a shock that Deontay's finally come back to us on the offer and seems to accept the terms.

"One thing I can tell you is that by the end of this week Deontay Wilder will have a contract in front of him and we'll see if he's real."
Wilder's manager, Shelly Finkel told ESPN they had officially accepted terms to a fight in the UK.
He said:
"Deontay sent an email to Joshua [Sunday] night, and I sent one [Monday] to Barry Hearn and Eddie telling them that we officially accept the offer to fight under the terms they gave us and to send us the contract."